Prepare for takeoff with FlightHub as we proudly present
PASSPORT TO DREAMS
A captivating video campaign where children's vibrant aspirations take flight in the real world. Witness as we spotlight the imaginative worlds of five youngsters (each selected from an initial interview group of 30) who dare to think big in the realms of travel, aviation, and hospitality. FlightHub laid the foundation to convert their greatest desires into tangible realities, demonstrating our commitment to crafting moments where dreams transcend boundaries.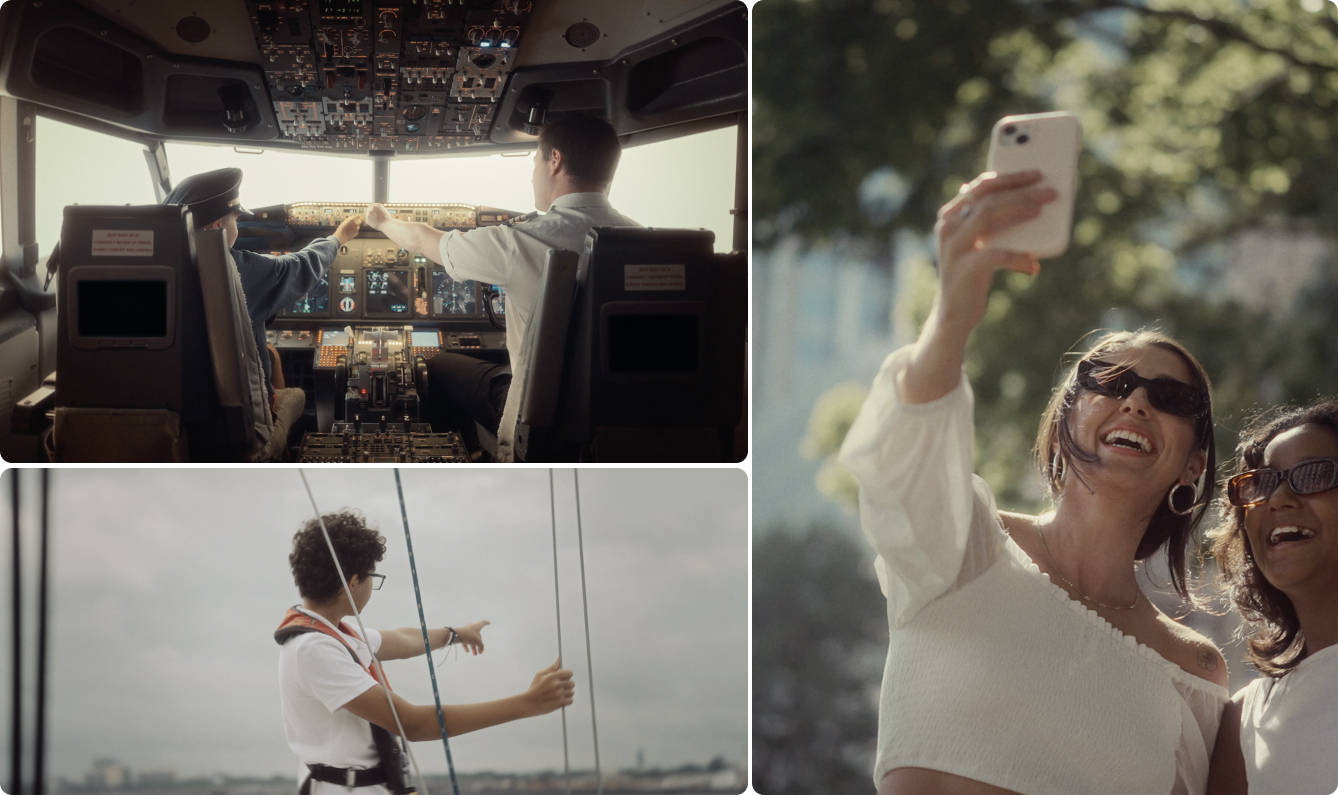 The first feature of our campaign is a budding pilot keen on exploring the skies. FlightHub organized an unforgettable adventure with a simulator experience, enabling the young aviator to navigate a virtual Boeing 737 across notable international landscapes. Witness the young pilot spread his wings, affirming that dreams, big or small, are within arm's reach.
Venture further with us as we meet a young aspiring captain with dreams as vast as the oceans he wishes to sail. With one of Ohana Sailing's expert guides, FlightHub crafted a learning expedition that steers our guest through the historic waters of Montreal's old port, marking the first milestone in a life filled with discovery.

Then, we encounter a future storyteller with a yearning ambition to explore faraway places through the lens of a travel blogger. FlightHub empowered her to step into this promising world by coordinating a mentorship session with Montreal travel blogger, Stacey Giannopoulos, at Montreal Marriott Chateau Champlain. Elevating the little girl's experience, the hotel also welcomed her and her family for a night's stay, paving the road to a luminous future.
Next, a hopeful culinary artist emerges with dreams of a career as a private chef. With FlightHub's help, the child entered the kitchens of the renowned Le Flamant restaurant. Here, under the guidance of chef David Hibon, she sculpted a signature dish, Carpaccio d'Omble Chevalier and Chermoula, heralding a potential future in gourmet excellence.
As our narrative reaches its peak, we introduce a young girl, fueled by the joy of travel and an aspiration to design remarkable journeys for her loved ones. Invited into the FlightHub headquarters, she absorbs the art of crafting exceptional adventures from a seasoned travel expert, fostering a promising curator of exciting expeditions.
FlightHub's
"Passport to Dreams"
initiative epitomises the magic and inspiration that lies in nurturing youthful hopes and dreams, inviting us all to
envision a larger canvas and reach greater heights
. This campaign leaves us with a note of inspiration regarding our career choices, motivating us to grasp the
endless possibilities that lie ahead
.
Envision a larger canvas
Witness as we spotlight the imaginative worlds of five youngsters who dare to think big in the realms of travel, aviation, and hospitality.